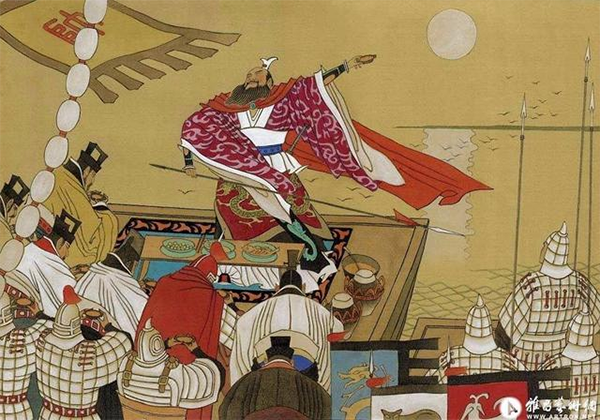 曹操 【魏】
对酒当歌 人生几何
譬如朝露 去日苦多
慨当以慷 忧思难忘
何以解忧 唯有杜康
青青子衿 悠悠我心
但为君故 沉吟至今
呦呦鹿鸣 食野之苹
我有嘉宾 鼓瑟吹笙
皎皎如月 何时可辍
忧从中来 不可断绝
越陌度阡 枉用相存
契阔谈宴 心念旧恩
月明星稀 乌鹊南飞
绕树三匝 无枝可依
山不厌高 水不厌深
周公吐哺 天下归心
A Short Song Ballad
Cao Cao [Wei Dynasty]
Inspired by mellow wine, I ought to sing,
How short life is, I can't help lamenting!
Just like the dew in the morning,
fading out with much suffering.
The melancholy in my heart remains,
though they are singing with passion.
How can I dispel the depression?
Only the mellow wine I am drinking.
Those geniuses outstanding,
how I long for you from night to morning.
For your excellence, I have been chanting.
Feeding on fields green, deer are singing.
If only heroes come to me,
I will play lute and flute, singing and dancing.
The bright moon is shining,
when can I pick it for my aspiration?
Deep distress from my heart,
spews out like spring.
Remote guests deign to visit me,
across roads from all directions.
Drinking and confiding,
we recall the past feelings.
Stars are few while the moon is shining,
towards the south, crows are flying.
Around trees they circle,
finding no branches for landing.
Mountains soar because of rocks and soil,
seas roar because of creeks and streams.
Following the example of duke Zhou the king,
may heroes come to me from all directions.
Translation: 枫居散人
References:
古诗词网
百度百科
Total Page Visits: 1615 - Today Page Visits: 1